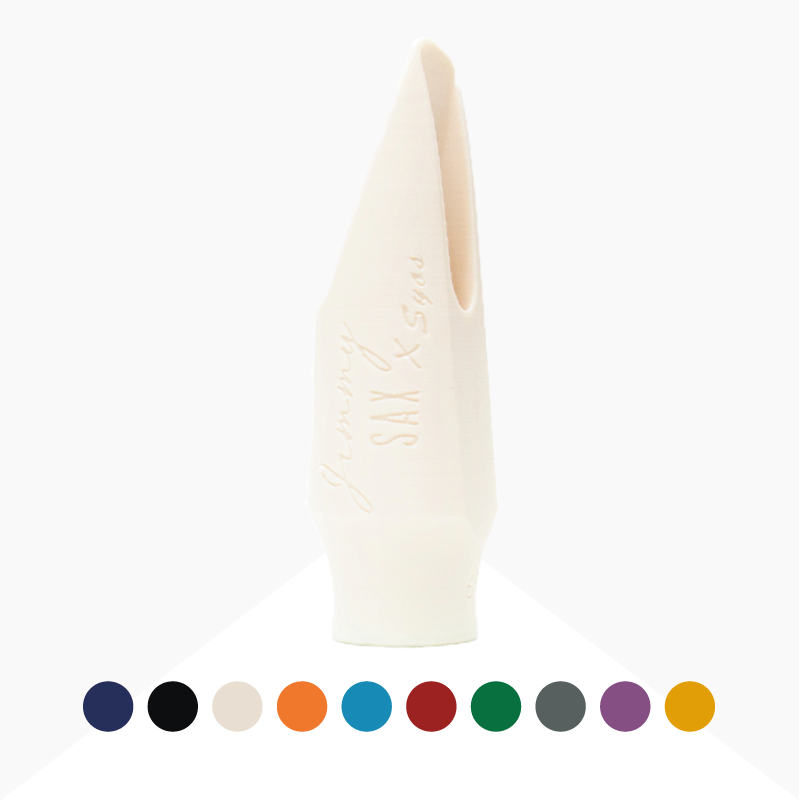 Alto Signature Saxophone mouthpiece - Jimmy Sax
Words from the artist :
" Syos has designed the alto saxophone mouthpiece I always wanted for comfort, attack, warmth and fullness of sound!" 
CHARACTERISTICS
Jimmy Sax's Signature mouthpiece combines a medium/large chamber and a circular baffle for a slightly bright, flexible and homogeneous sound with great playability.
Jimmy Sax plays with a 6* tip opening.
Alto Saxophone
Tip opening chart
Jim Rolland a.k.a. "Jimmy Sax" is an incredible saxophonist, multi-instrumentist, composer and entertainer more oriented towards electronic music. A true performer, he has played worldwide from New York to Saint Tropez, Miami, Cannes, Dubai, Paris, Monaco, Toronto, Capri, New Delhi, Cancun, Rome, Berlin, Saint Barth (where he lives) and many others... His track record of 1,500 shows, 1 million followers, 250 million views and 2 golden records has turned him into a unique figure in the world of saxophone and electronic music. 2021 will be another great year with the release of his up and coming album "Killing Jimmy Sax" (scheduled for April), his participaton in the Italian TV show IBAND as the main Jury, and his concert at the Naples Palapartneope with a symphonic orchestra!
Artist Set Up :
Instrument: Selmer Action 80 & Selmer Reference
Reeds: Marca Reed - Jimmy Sax Signature
Ligature: Syos
WHAT IS SYOS?
THE GAME CHANGER
Syos stands for Shape Your Own Sound. The technology and the science behind our saxophone and clarinet mouthpieces come from years of research at IRCAM, the worldwide reference in terms of acoustics and sound technologies.

The meeting between Pauline, PhD in acoustics, and Maxime, PhD in auditory perception, started the creation and development of a new and original way of designing instruments.
Using proprietary material SCAL3D we craft mouthpieces with the highest degree of precision, with improved resistance and durability and the largest choice of chamber geometries, baffle types and colors on the market.
Syos mouthpieces are played by an ever-growing roster of international artists.
SYOS Jimmy Sax Alto mouthpiece
Great free blowing mouthpiece! My playing sounds effortless. Great tone and reaches the high and low notes easily. Best mouthpiece I've played and I have played many.
Sound
It's little bit soft for me, but for quiet environments its ok. When i listen to the Jimmy Sax sound it's more breit, but this come not only from mouthpiece.
Great Surprise!
Awesome! Full, rich, & with the right amount of brightness. A mouthpiece for your sax to be heard, but not blaring. Received in the "freaks" package so a great surprise since you don't know what you are getting. Definitely 2 thumbs up.
Shipping
Syos ships to most of the countries in the world except those of South America and Central America, Iran, Nigeria, North Korea, Sudan, Syrian Arab Republic, Turkey and Russia.
As the mouthpieces are made-to-order, please expect a manufacturing time ranging from 3 to 5 days. The delivery time then varies depending on the destination country and if you choose an express or regular shipping.
Other
You can contact us through our contact page! We will be happy to assist you.
IN THE SPOTLIGHT
THE SIGNATURE COLLECTION
On our Signature Collection you will find mouthpieces full of personality curated by world-class musicians. Their sound is at your fingertips!