B-flat Signature Clarinet mouthpiece - Chloe Feoranzo
Words from the artist :
"This mouthpiece is fantastic, with a darker tone and just enough resistance to blow through the horn easily without having to sacrifice the tone quality."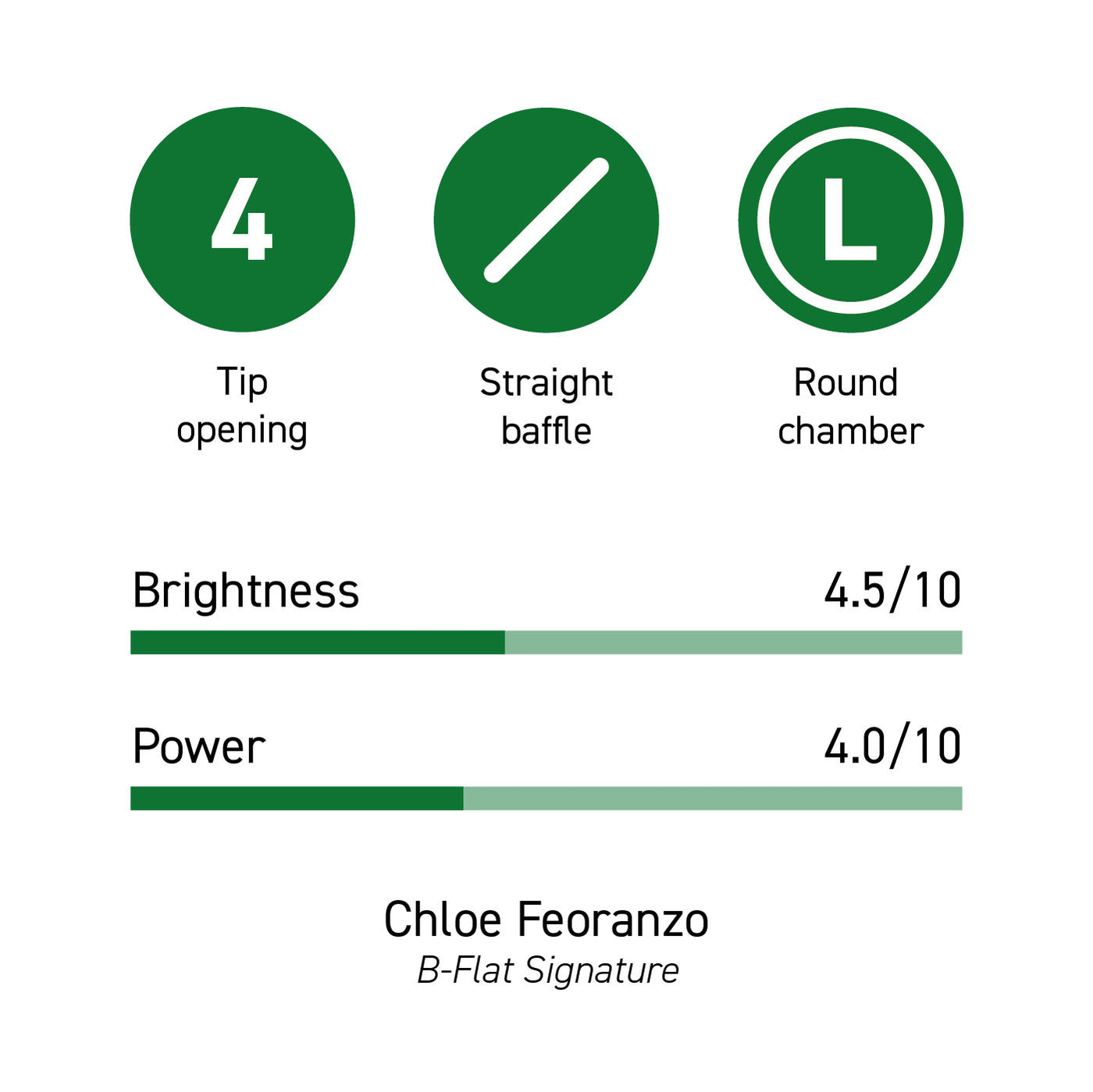 CHARACTERISTICS
With its small opening and round chamber, this mouthpiece is straightforward and stable, yet warm thanks to the large chamber. The reduced table length allows easier access to the high register.
Chloe Feoranzo plays with a 4 tip opening.
B-flat Clarinet
Tip opening chart
Chloe Feoranzo is a 28-year-old clarinet and saxophonist who has been performing professionally since the age of 15. She grew up playing in youth orchestras, musical pits, along with swing, traditional jazz bands and guest artist at festivals of the Southern California area.

She completed a three year tour with Pokey LaFarge. The band toured many countries and appeared on various shows like, The Late Show with David Letterman, Prairie Home Companion and the Grand Ole Opry. She now resides in New Orleans, LA as a freelance musician, full-time member of Shake 'Em Up Jazz Band and has been touring part-time with Postmodern Jukebox and Asleep At The Wheel.
Artist Set Up :
Instrument: Buffet E11
Reeds: Vandoren Classic 3
Ligature: Vandoren
WHAT IS SYOS?
THE GAME CHANGER
Syos stands for Shape Your Own Sound. The technology and the science behind our saxophone and clarinet mouthpieces come from years of research at IRCAM, the worldwide reference in terms of acoustics and sound technologies.

The meeting between Pauline, PhD in acoustics, and Maxime, PhD in auditory perception, started the creation and development of a new and original way of designing instruments.
Using proprietary material SCAL3D we craft mouthpieces with the highest degree of precision, with improved resistance and durability and the largest choice of chamber geometries, baffle types and colors on the market.
Syos mouthpieces are played by an ever-growing roster of international artists.
Shipping
Syos ships to most of the countries in the world except those of South America and Central America, Iran, Nigeria, North Korea, Sudan, Syrian Arab Republic, Turkey and Russia.
As the mouthpieces are made-to-order, please expect a manufacturing time ranging from 3 to 5 days. The delivery time then varies depending on the destination country and if you choose an express or regular shipping.
Other
You can contact us through our contact page! We will be happy to assist you.
IN THE SPOTLIGHT
THE SIGNATURE COLLECTION
On our Signature Collection you will find mouthpieces full of personality curated by world-class musicians. Their sound is at your fingertips!