B-flat Signature Clarinet mouthpiece - Elisée Defaut
Words from the artist :
"My Syos Signature meets all my expectations! A pleasure to play on, with a beautiful, rich and centered sound on the whole register, supple when needed... it gives me great freedom to explore the clarinet world!"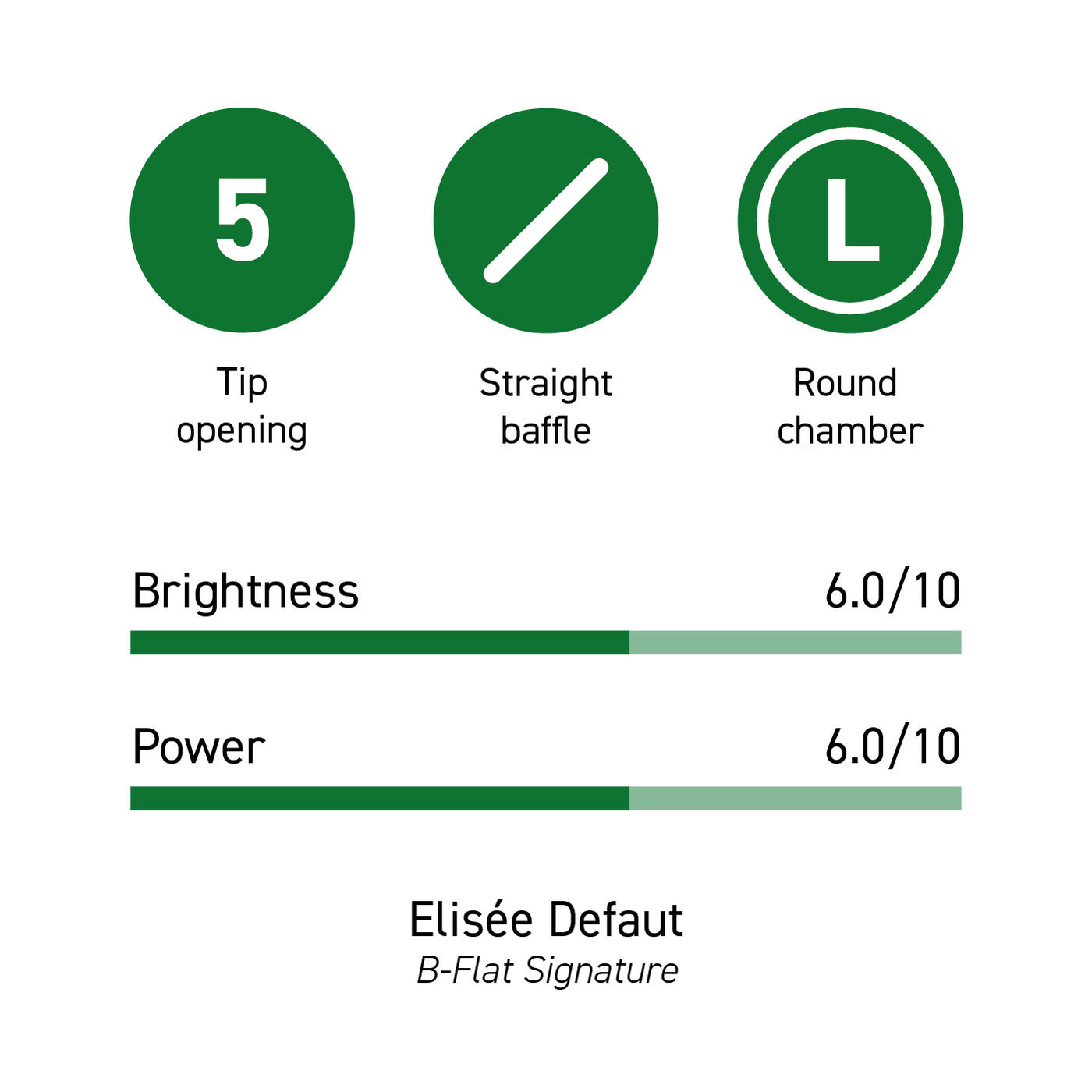 CHARACTERISTICS
With its round chamber and slightly longer table length, this mouthpiece has a direct sound and is remarkably easy to play. Versatile par excellence, it is equally suitable for classical, klezmer, or jazz music.
Elisée Defaut plays with a 5 tip opening.
B-flat Clarinet
Tip opening chart
After starting the clarinet at a very young age, Elisee Defaut quickly became part of different ensembles in various styles of music.

Currently enrolled in a classical training programme, he enjoys trying new things and exploring the many possibilities that the clarinet offers, ranging from classical to jazz, and even Klezmer...

In order to find new and different sounds, he also plays the bass clarinet as well as the saxophone.

Last year, he released his first EP on the clarinet, titled Démence, an innovative blend of Klezmer and Electro. With its uncanny atmosphere, this piece of work is quite impactful.

Elisee is currently working on different projects, and might even release an album before next year!
Artist Set Up :
Instrument: Selmer Privilège
Reeds: Syos Arcane 3,5
Ligature: Vandoren MO Gold
WHAT IS SYOS?
THE GAME CHANGER
Syos stands for Shape Your Own Sound. The technology and the science behind our saxophone and clarinet mouthpieces come from years of research at IRCAM, the worldwide reference in terms of acoustics and sound technologies.

The meeting between Pauline, PhD in acoustics, and Maxime, PhD in auditory perception, started the creation and development of a new and original way of designing instruments.
Using proprietary material SCAL3D we craft mouthpieces with the highest degree of precision, with improved resistance and durability and the largest choice of chamber geometries, baffle types and colors on the market.
Syos mouthpieces are played by an ever-growing roster of international artists.
Shipping
Syos ships to most of the countries in the world except those of South America and Central America, Iran, Nigeria, North Korea, Sudan, Syrian Arab Republic, Turkey and Russia.
As the mouthpieces are made-to-order, please expect a manufacturing time ranging from 3 to 5 days. The delivery time then varies depending on the destination country and if you choose an express or regular shipping.
Other
You can contact us through our contact page! We will be happy to assist you.
IN THE SPOTLIGHT
THE SIGNATURE COLLECTION
On our Signature Collection you will find mouthpieces full of personality curated by world-class musicians. Their sound is at your fingertips!