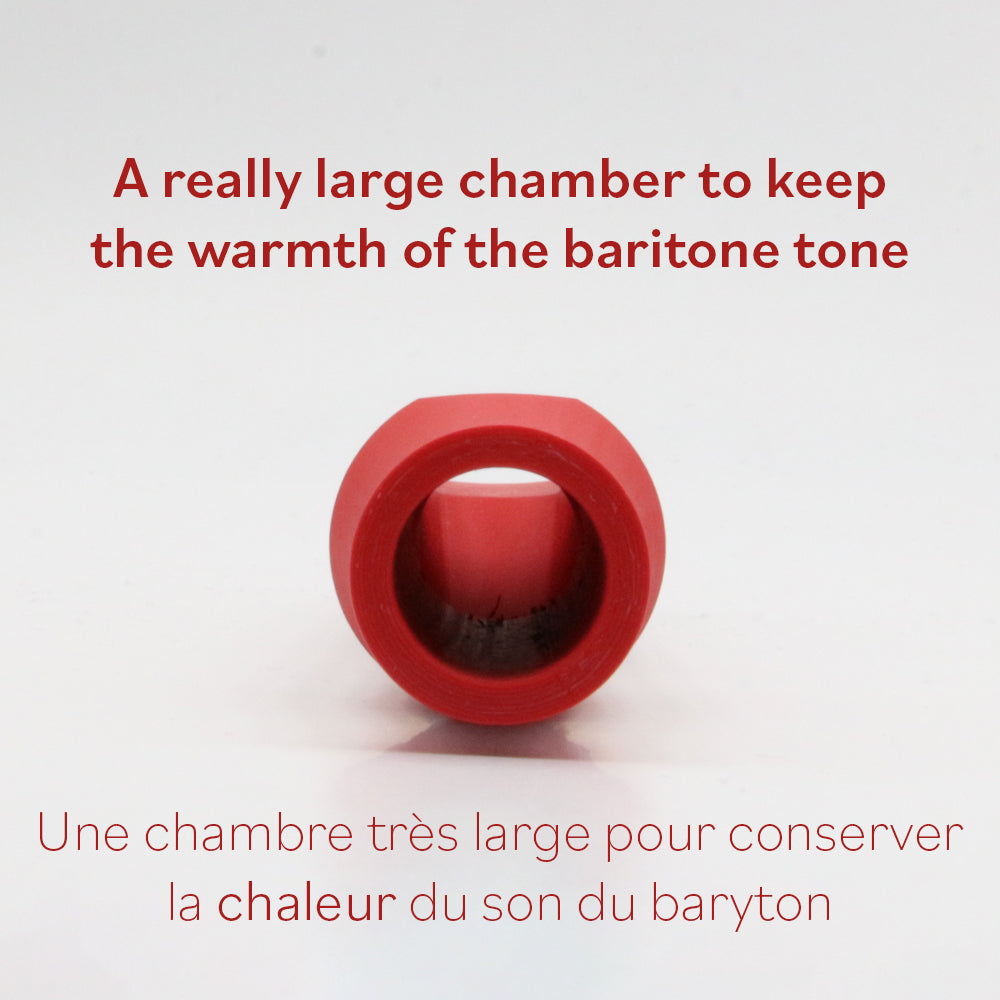 Baritone Signature Saxophone mouthpiece (for Vintage Sax) - Funk Off
"Finally, I've discovered how to create my ideal sound. Syos has provided me with the exact sound I've been searching for - powerful yet soft, aggressive and sweet, modern with a deep and slightly mellow tone. It allows me to play all the music I love, from Jazz to Funk. Whether as a soloist, in Big Bands, small and big Combos, or even solo performances." 
This mouthpiece is specially made for an old Conn so it won't work on a modern Baritone. It is perfect for an old Bari sax or a Bass saxophone.
CHARACTERISTICS
This mouthpiece has a very high step baffle that gives a huge amount of power. It has a really large chamber in order to keep the warmth of the baritone tone. This mouthpiece is perfect for Funk and Brass Bands. It has been developed for an old Conn baritone so it is perfect for old models of baritone saxophones or even bass saxophones but it will be too long for a regular, modern saxophone.
Dario Cecchini (Funk Off) plays with a 8 tip opening.
Baritone Saxophone
Tip opening chart
A versatile musician and bandleader, Dario Cecchini is the driving force behind FUNK OFF, a groundbreaking 15-member Marching Band that became Umbria Jazz's official ensemble. With 10 CDs of original compositions, they've captivated audiences across the globe. In 2022, his solo album "ECHOES" dropped on Caligola Records. He also heads JAZZASONIC and TRIOZONE, releasing captivating albums. A seasoned collaborator, he's worked with jazz icons like Lee Konitz, Kenny Wheeler, and more, as well as diverse artists like Mika and Eros Ramazzotti. His prolific career spans over fifty CDs, including 15 as a leader, and he imparts his wisdom as a Jazz Saxophone professor at the Cherubini Conservatory in Florence.
Artist Set Up :
Instrument: Conn Lady Face Baritone Saxophone
Reeds: D'Addario La Voz Medium, D'Addario Select Jazz 2H or 3S
Ligature: Zac Ligature
WHAT IS SYOS?
THE GAME CHANGER
Syos stands for Shape Your Own Sound. The technology and the science behind our saxophone and clarinet mouthpieces come from years of research at IRCAM, the worldwide reference in terms of acoustics and sound technologies.

The meeting between Pauline, PhD in acoustics, and Maxime, PhD in auditory perception, started the creation and development of a new and original way of designing instruments.
Using proprietary material SCAL3D we craft mouthpieces with the highest degree of precision, with improved resistance and durability and the largest choice of chamber geometries, baffle types and colors on the market.
Syos mouthpieces are played by an ever-growing roster of international artists.
Bari Funk MP
Hi
I love Funk Off so I jumped at the chance of buying the founders Bari MP.
I found it though very disappointing and under performing. Didn't have the grunt I was hoping.
I am going to try some other reeds on it, and I wasn't going to give you feedback, but this is the 3rd or 4th prompt you have requested, thus my comments.
Shipping
Syos ships to most of the countries in the world except those of South America and Central America, Iran, Nigeria, North Korea, Sudan, Syrian Arab Republic, Turkey and Russia.
As the mouthpieces are made-to-order, please expect a manufacturing time ranging from 3 to 5 days. The delivery time then varies depending on the destination country and if you choose an express or regular shipping.
Other
You can contact us through our contact page! We will be happy to assist you.
IN THE SPOTLIGHT
THE SIGNATURE COLLECTION
On our Signature Collection you will find mouthpieces full of personality curated by world-class musicians. Their sound is at your fingertips!